New Orleans "Barbecued" Shrimp has been on my to-do list for years. Why years? Solely because I was being extremely stubborn about the shrimp I used. I wanted to make the real deal New Orleans Barbecued Shrimp and for that I needed whole shrimp, head and all.
Once I'm fixed on an idea I will rarely concede. I searched high and low for years looking for whole shrimp. I went to every market in a 60 mile radius. I saw all kinds of shrimp, every size imaginable, but they were all headless. Why oh why couldn't I find shrimp with the heads on? Eventually I got frustrated and gave up the search. If I couldn't find whole shrimp then I simply couldn't be bothered to make it.
Then I got to thinking...why am I am being such a brat about shrimp with heads anyway? It's not like I'm really going to eat the head, or suck it, or anything like that. So I gave up the search, just like that, and I finally made New Orleans Barbecued Shrimp and you know what? Turns out it doesn't matter if the shrimp has a head or not! It was worth the wait!
Tender shrimp in a buttery hot sauce with a hint of lemon and loads of fresh herbs. Pop a shrimp in your mouth and grab some bread to sop up that yummy sauce. No need to be polite about it. It's finger lickin' good!
N'awlins Barbecued Shrimp with Amber Ale
Serves 2-4
2 pounds extra-large shrimp in the shell*
1 tablespoons olive oil
5 tablespoons butter
8 garlic cloves, finely chopped
1/4 teaspoon cayenne pepper
salt and pepper, to taste
1/2 cup amber ale
2 tablespoons fresh lemon juice
1 tablespoon hot pepper sauce, such as Crystal or Tabasco
1 tablespoon Worcestershire sauce
3 tablespoons finely chopped fresh parsley
1 teaspoon chopped fresh oregano
1 teaspoon chopped fresh thyme
1/2 teaspoon chopped fresh rosemary
Sliced French bread, warmed or lightly toasted
*Note: If you're lucky enough to buy the whole shrimp then that is awesome, but regular old shelled and devined shrimp works just fine.


Using a small sharp knife, cut down the back of each shrimp just deep enough to expose the dark vein. Devein the shrimp under cold running water, leaving the shells intact.
Heat a large heavy skillet over medium-high heat. Add the olive oil, then add 2 tablespoons of the butter and swirl to melt it. Add the garlic, sprinkle with the cayenne pepper, and season with salt and pepper, to taste. Cook for about 1 minute, or just until the garlic is tender. Add the shrimp and toss to coat well with the butter mixture. Add the ale, lemon juice, hot sauce, and Worcestershire sauce and simmer for about 2 minutes, or until the shrimp are almost cooked through, turning the shrimp after 1 minute.
Add the remaining 3 tablespoons butter, the parsley, oregano, thyme, and rosemary and simmer gently for about 1 minute, or until the butter melts and the shrimp are just cooked through. Season to taste with salt and pepper.
Transfer the shrimp and sauce to four wide shallow bowls. Serve with the bread to sop up the sauce.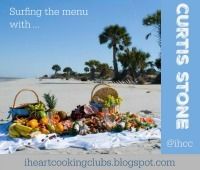 Theme: Surf n' Turf